Process Mapping for Your Accounting Workflows
Posted on September 1, 2021 by Team Boombirds
Process mapping, process analysis and process improvement are all terms that are used interchangeably to describe a process in a workflow system. It is often used in accounting workflows to document an accounting process, but can be applied to any type of business process.
Process mapping is the process of documenting the process by identifying its steps, inputs and outputs as well as starting and ending points.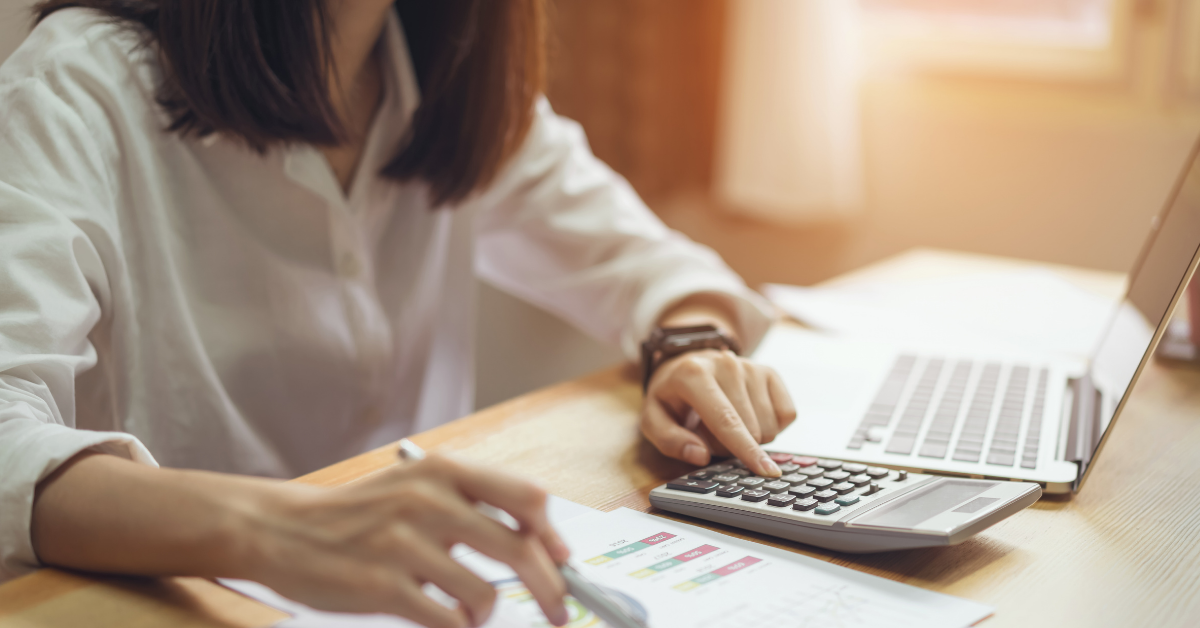 There are many process mapping tools that can be used to map accounting workflows.
A process map provides a clear picture of how each step in the process affects the next step and what needs to happen first before advancing to the next one.
It also shows how potential delays or problems (e.g., "error") might affect all other steps in this process, as well as any possible alternate paths ("backup plan").
What is process mapping?
Process mapping in accounting is a process of drawing out the process flow and tracking it to show how people, tasks or documents move through the process.
Process mapping helps businesses identify potential improvements in their business processes by looking for bottlenecks or any other inefficient areas that might be slowing down progress.
Accounting process maps illustrate the process of transactions from entering into a company's books, through various stages.
Interesting Read: The Secret to Workflow Automation for Financial Services Firms
Sample Process Map for an Accounting Workflow
Process mapping can be used to document the steps in a process, and helps you see where improvements could be made to increase efficiency and reduce costs.
The first step in creating a process map is to define the scope of your project – what does it cover? What are the boundaries of this particular process?
After that, break down each stage of your workflow into individual tasks with clear descriptions. Finally, create an overview diagram showing how these tasks fit together as part of one larger flowchart-style diagram.
You should also include information on who performs each task and when they perform it. Now you have everything you need to start improving your company's workflows!
This is an example of a process mapping diagram, which maps out a simple bookkeeping workflow for an accountant.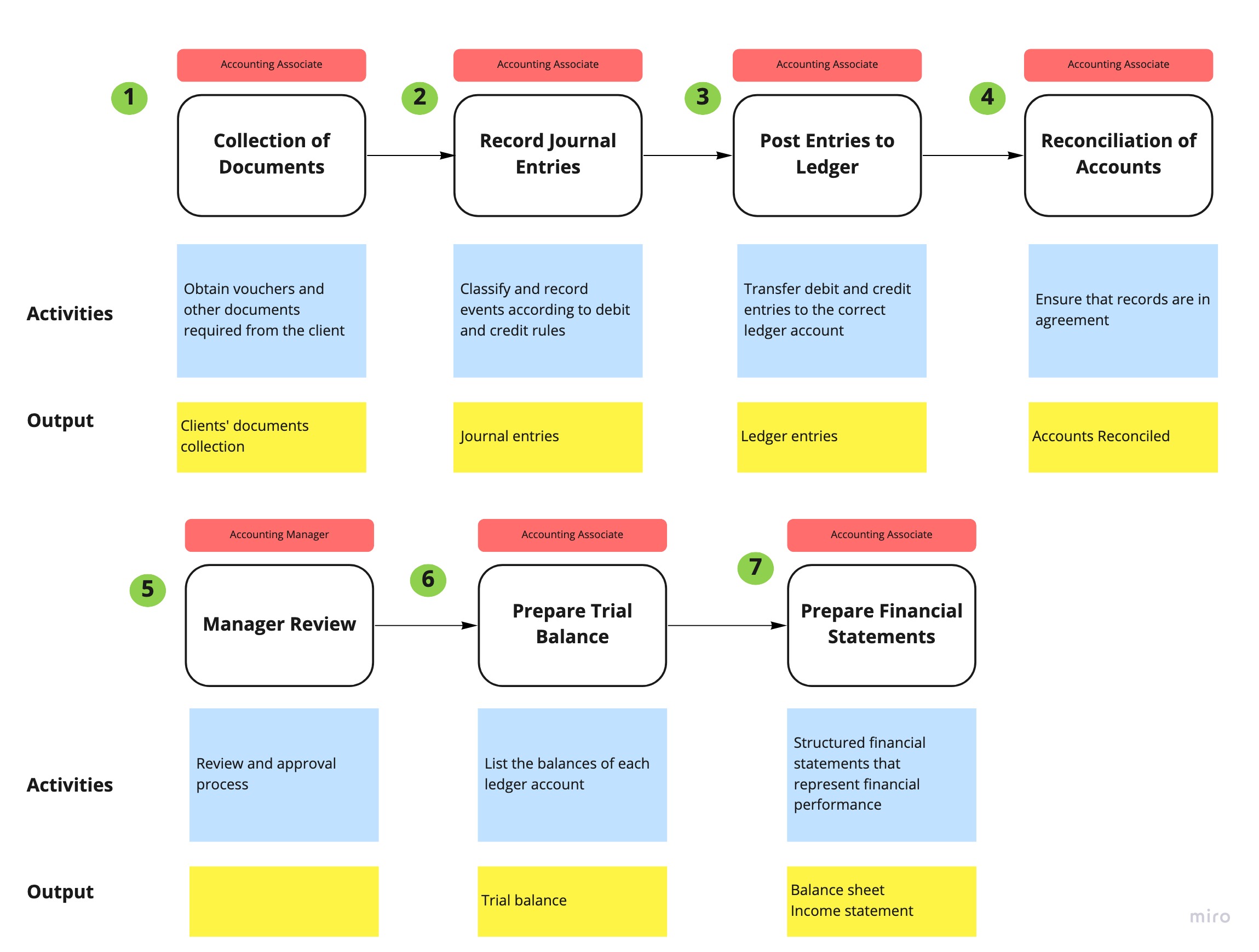 From this simple mapping diagram, you can see that the process is divided into 8 different stages.
The benefits of having these processes laid out clearly are that you can see where the process starts and finishes, how many steps there are (simple or complex), and any potential bottlenecks or points of delay.
Business process mapping provides your accounting firm with a guide that is easy to follow and understand. Any types of process maps; value stream map, process flowchart, or process diagram, will give you a snapshot of your entire process steps so you can enhance your process management strategy.
The steps involved in the process mapping process is not difficult to understand or execute. It all depends on what part of your business needs attention.
Common Bottlenecks in the Accounting Workflow
All the intricate work in business management is demanding and can be overwhelming. A graphical representation of all the steps that need to happen for your business to function can help you have a better understanding of what needs to be done.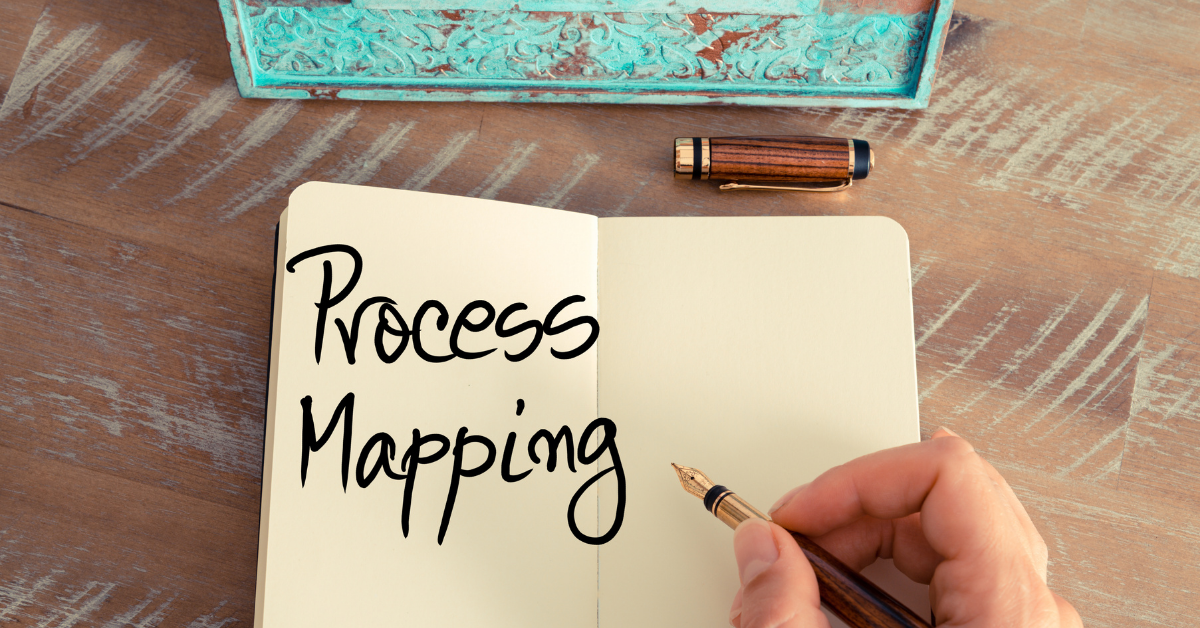 Business process mapping has a big role in organisational efficiency. When you create a process map, you can easily identify bottlenecks, have a detailed process for your cross functional teams, have a better understanding of what needs to be done. Not only that, but process mapping can also be used to manage quality management.
You might be wondering, what bottlenecks can you identify once you start your flow process chart. Here are some examples that you need to look out for:
Problem 1
Identify process bottlenecks by looking for tasks that take a long time to complete.
If you're not sure where the process bottleneck is, you might want to compare its process map with others of your own organisation or those in other industries and see if they have any similarities.
Process mapping will help your team realise where they might be lacking process, process efficiency or process effectiveness.
One other thing that can help you to easily spot bottlenecks is Kanban! For more on Kanban, check out this blueprint…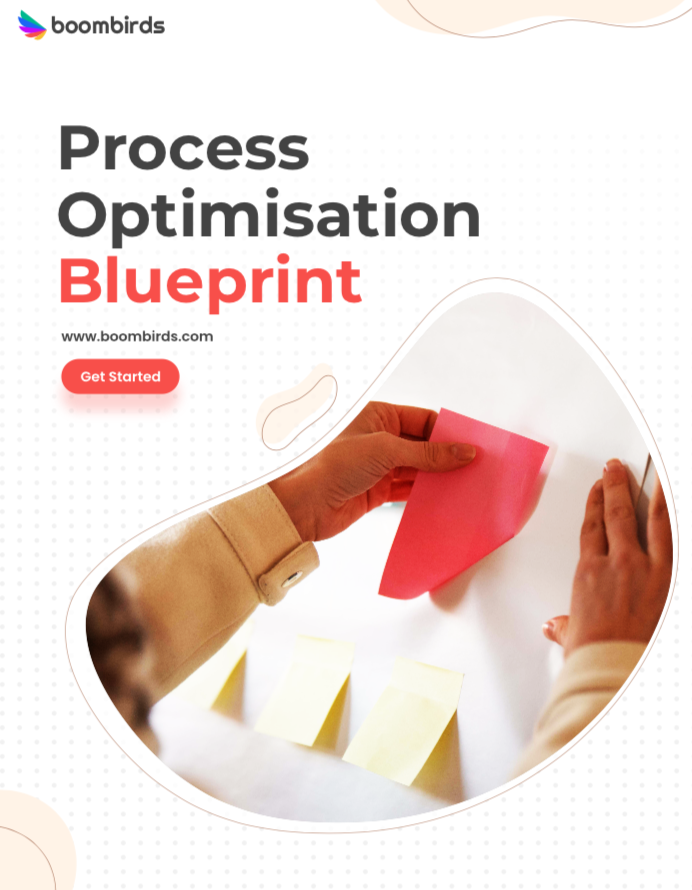 Problem 2 Repeatable and duplicated tasks.
When you map a process, you can process bottlenecks by looking for tasks that occur more than once. These unnecessary steps might be the ones holding your company back!
Problem 3
Another bottleneck that is often found within the process of an accounting firm is the process of entering data into a spreadsheet. Never fear, process mapping can help you understand the process better and identify where there might be room for improvement.
Excel can be a great tool, but it is often used as an afterthought process that doesn't work for every need. The process of entering data into an excel spreadsheet and then using formulas to do calculations or reporting is just not scalable.
Whether you are just starting out or have been in business for a while it's crucial that you start now with your processes mapped out. With Boombirds easy-to-use software, you can get started on your workflow management journey today!
Are you tired of…
Messy, manual processes that can't be scaled?
We work with operations leaders looking to digitally transform their manual back-office processes and procedures.
We combine your existing business processes with our software, plus decades of enterprise process re-engineering and change management experience to quickly scale and see the results you are looking for.